Bolts, nuts, and c-clips
Those are a few of the only parts Harley-Davidson was able to carry over to use on its new adventure bike. It should come as no surprise that the Pan America 1250 is an entirely new machine. From the chassis, to its Revolution Max 1250cc V-Twin, the Pan America is unlike anything the Motor Co has previously developed. 
Deadwood green was announced for the US at the time of our product presentation as it originally wasn't slated to be an option for North America. They had one green tank and one green fairing and guess who got their black parts swapped for it? Me, baby, me!
The all-new powerplant's spec sheet looks more akin to the European ADV V-Twins than to its predecessors, with a 13:1 compression ratio inside its single-piece aluminum cylinders. Knock sensors are used to retard timing in the instance that 91 octane fuel is hard to come by. Making up its 1250cc is a 104.9mm bore and 72.1mm stroke. Dual spark plugs are used for combustion, and oil jets positioned below the piston aid in cooling. Dual OverHead Camshaft (DOHC) design and Variable Valve Timing (VVT) also showcase the modernity in the MoCo's latest mill.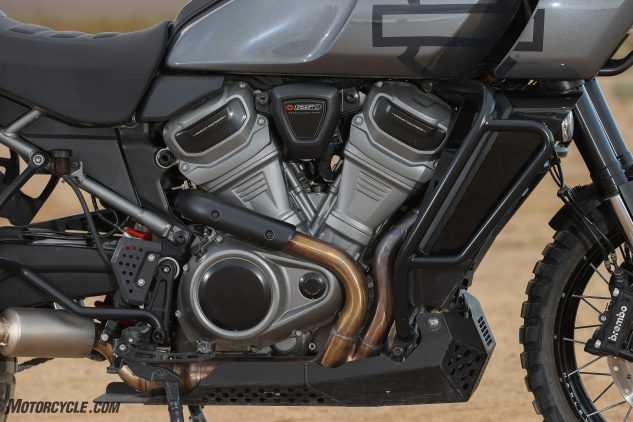 The Harley-Davidson Revolution Max protected by the accessory skid plate.
The two crankshaft journals are offset by 30 degrees in the 60-degree V-twin, resulting in a 90-degree firing order. We're told the engine was meticulously scrutinized to provide durability while also being as light as possible. The rocker covers, camshaft covers, and stator cover are all made from magnesium. 
One major feature that isn't new to H-D, but is new to ADV, is the inclusion of hydraulic lash adjusters in the valve train which, in theory, mean the customer will no longer need to worry about valve adjustments in their service schedule. The design ensures the valve actuators are in constant contact with the valves which Harley tells us also allowed them to use more aggressive cam lobe profiles.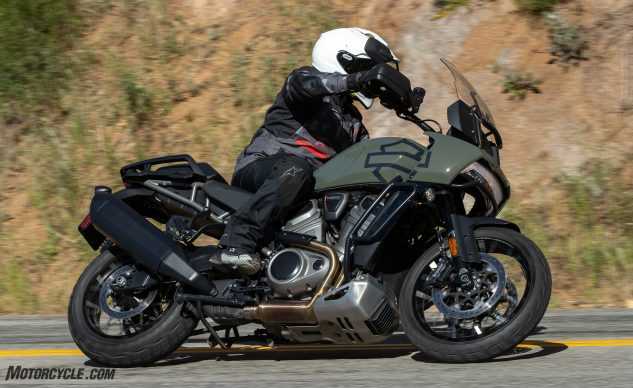 Inside the unified cases are three oil scavenging pumps, two counterbalancers, and a slip and assist cable actuated clutch for smooth shifts back and forth between its six gears. The ol' "We don't speak to future products" was given when asked about the possibility of a quickshifter in the future. The airbox is located beneath the fuel tank, which will need to be removed for servicing the air filter. We're told the quick disconnect fuel line and three bolts it takes to pull the tank make this service easy. Not as easy, of course, as on other adventure bikes that give access under the seat. In a further, but necessary departure from H-D's norm, a chain final drive is used.
The stainless steel exhaust situates the catalytic converter under the rider's right foot which, as one might assume, puts off a substantial amount of heat, but more on that later. What's a Harley without Screamin Eagle accessories?! Half of our test units were equipped with the 6.5-pound lighter (42% lighter than stock), but auditorily similar, Screamin Eagle Street Cannon exhaust with a Ti muffler and carbon tip. 
Engine, Gearbox and Exhaust
Although the angle between the cylinders is 60 degrees to keep it compact, the firing interval is a more traditional 90 degrees thanks to crank pins that are offset by 30 degrees. That means you won't be hearing the traditional Harley noise from this twin, although the company says it's put efforts into making the engine sound distinctive nonetheless. The V-Twin is of course core to Harley's identity.
The Variable Valve Timing is something of a surprise. Although not as sophisticated as BMW's ShiftCam system, which alters the valve lift as well as its timing, the setup is on a par with the variable valve timing used on Ducati's DVT twins. Like the Italian engines, the Revolution Max features a cam phaser on for each of its four camshafts, allowing the shafts to be rotated in relation to their sprockets to advance or retard the timing. The cams are chain-driven, so there aren't any belts to be replaced, and servicing worries are also likely to be lightened by the inclusion of hydraulic tappets to make valve clearance adjustments a thing of the past.
Twin spark plugs per cylinder promise a better burn across the wide 105mm bore of each cylinder, and the engine's balance is improved by a main balancer shaft in the crankcase and a secondary balancer in the front cylinder head, between the camshafts. Drive goes through a slipper clutch to a six-speed manual box which then uses a chain-drive which, for some, will be a disadvantage away from the relatively maintenance-free but far heavier shaft drive. It was considered, said the engineers.
A small push button ignition on top of the right-hand switchgear brings the motor into life with little shake, rattle or roll but more of an impressive, 21st century rumble. It's modern, neat, bare and clever too. Chief Engineer, Alex 'Boz' Bozmoski took 18 minutes of scripted video to explain the engine's components from concept, purpose, material and location. It really is a new era for the Harley twin all in a neat package considering is size, but also the proximity to an EV age. Perhaps a LiveWire and Pan America offspring will emerge one day soon. Back to engine, and the Revolution Max provides its noise via a side-slung R1-esque silencer. Optional Screamin' Eagle versions are available, though the standard pipe is hearty enough.
When in off-road mode and trekking through the single track, shale-covered forest stage, the gearbox was torquey enough, but I needed first gear and its accompanying mid-range revs to get anywhere as opposed to the momentum and low-down grunt in second. On the road and only when cruising will 6th be in contention for your attention. The long, tall gearing makes for minimal gear changes which are light enough with a slipper clutch in place although an up/down quickshifter would have been another contemporary (and pleasing) addition. "It's being considered (for future models)," said one of the engineers. I half expected a full-on clunk between shifts, but this is no old-school Harley, instead you're respectfully tapped on the shoulder and asked politely to observe the quaint rocking motion of a gear change – all in about a quarter of second.
Time will tell
Only time will tell how the Harley-Davidson Pan America will hold up under abuse. Our two days with the machine isn't enough to know how it will fare in the long haul. But it was absolutely clear that Harley has built a proper adventure bike that should appeal to a large swatch of riders, whether it be those new to adventure touring, new to Harley-Davidson, or veterans looking for something new and with some compelling offerings to boot.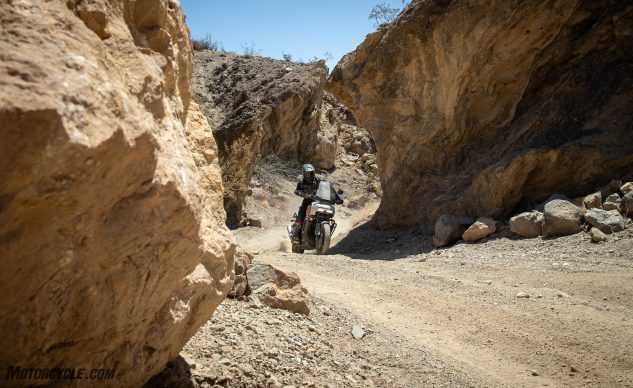 There's not much to fault the Pan Am for. H-D has built an exciting motor in its Pilgrim Road facility and transplanted it into an exciting motorcycle in York, PA. I see a lot of people making comments about the machine online who haven't a clue what it's like to ride the thing. I guess they always say if you have haters, you're doing something right, and Harley-Davidson has done more than a few things right with the Pan America. 
Join other fans of the Harley-Davidson Pan America at PanAmericaForums.com
We are committed to finding, researching, and recommending the best products. We earn commissions from purchases you make using the retail links in our product reviews. Learn more about how this works.
Become a Motorcycle.com insider. Get the latest motorcycle news first by subscribing to our newsletter here.
Harley-Davidson Pan America 1250 (2021) Price
How much is the 2021 Harley-Davidson Pan America 1250? Of the two models, the standard bike starts at £14,000 while the Harley-Davidson 1250 Special starts at £15,500.
Those prices are applicable if you chose the Vivid Black colour scheme. For the standard bike, the only other option is River Rock Grey and that'll be an extra £250. On the Special model, Gauntlet Grey Metallic or Deadwood Green (the bike I'm riding in these photos) are an extra £250. Or the two-tone Baja Orange/Stone Washed White Pearl is £450 extra. They'll be in UK dealerships from the beginning of June and 40% of the allocation has been sold. 90% of those are the Special edition.
For the extra £1500, the Special comes with some top-notch kit: semi-active front and rear suspension, two additional riding modes, centre stand, heated grips, steering damper, hand guards, adaptive forward lighting, skid plate, brush guard, tyre pressure monitoring system and a quick adjust brake pedal (if taking 258kg off-roading is your thing).
And the below PCP example shows the Deadwood Green Pan America 1250 Special at less than £150 per month: 
| | |
| --- | --- |
| On The Road Price | £15,750 |
| Customer Deposit | £4,000 |
| Term | 37 months |
| Monthly Payment | £149.89 |
| Annual miles | 4000 |
| Optional final repayment | £8,774 |
| Total Amount Payable | £18,170.04 |
| APR | 7.9% |
In short, the prices are bang-on when it comes to competing with the undisputed king of the adventure class, BMW's R1250GS (which starts at £13,705), you could say the same about the other two main rivals; KTM's 1290 Super Adventure S (£14,999) and the Ducati Multistrada V4 (£15,665), but how does Harley's offering stack up in other respects?
Styling and design
The Revolution Max was built to be stiff enough to serve as a stressed member in the middle of the chassis, where it's on full display. Harley didn't want to hide their new engine or its clean, distinctive lines. In fact, take another look at how nothing crosses in front of the right "display side" of the bike except the exhaust. The left side has a little more going on, sure, but the overall execution manages a premium look in the utilitarian ADV space. Harley compared the styling to that of "a good multi-tool… function form." The bike features integrated grab rails and luggage mounts for the adventuresome tourer. Wheelbase is among the longest in the class at 62.2 inches, which makes sense with Harley's expectations for passengers and plenty of luggage.
Without (optional) large aluminum luggage, do you even ADV? Harley-Davidson photo.
The production bike sports the same basic design we saw with Harley's initial concepts: minimal bodywork, a stepped seat, radiator covers along the sides, and a polarizing bullnose that's equal parts Road Glide and light bar. I think it looks tough with a U and two Fs. According to Harley, its wide shape is especially beneficial when off-road riding in low-light conditions. We see a similar windshield to the concept's, too, now with four positions of adjustability that can be raised or lowered while riding with your clutch hand.
The Pan America is available in two versions. Let's look at the standard version first, then we'll get into the up-spec Pan America 1250 Special and its additional features.
Base Pan America 1250s are Vivid Black, like this. Harley-Davidson photo.
Harley-Davidson Pan America 1250 (2021) Brakes
A linked set of Brembos are controlled not only by you squeezing the lever or pedal but also via the brains of the bike, the 6-axis IMU, which has responsibilities for ABS, cornering ABS and hill hold control. On a heavier bike such as the Pan Am, I tend to use the rear brake to prevent too much weight diving forwards, though I needn't given the linked nature of the brake set-up and the excellent suspension settings controlling such potential distortions. Though I trusted their ability to do the one thing they're supposed to do, the feeling through the brake lever was a little too stiff. With minimal travel of the lever and barely any squeeze required, I felt the front would lock with any more pressure. Perhaps I should be applauding the harmonious work of the engine braking, electronics, and suspension combination for slowing me in comfort.
In Off-Road Plus mode the ABS on the rear is disabled and the linked brakes are disabled.
Power and Torque
The new Revolution Max 1250cc 60-degree V-twin is a liquid-cooled 1252cc engine designed pretty much on a capacity par with the 1254cc BMW boxer in terms of capacity but punches harder, with 150hp at 8750rpm compared to the German bike's 136hp at 7750rpm. The tables are turned when it comes to torque, with the Pan America peaking at 94lbft and 6750rpm, the BMW at 106lbft and 6250rpm.
That surge of low to mid-range as well as roll-on power depends on the selected rider mode, with one of the biggest differences between Road and Sport I've known on any bike. Road mode soaks chunks of entertainment away but suits those longer motorway stretches or the occasions where aggressive riding isn't required (on the wet and pinecone-laden single-track roads south of the Snowdonia National Park, for example, which happened to be those used on our press ride). Sport is rather obviously the more energetic in terms of throttle connection while dampening technological intervention which demonstrates the performance versatility of the new motor.
You might expect an almighty heave from the mid-range and while it doesn't hang about with a fistful of throttle, it's silky smooth in its application with all sorts of balancer shafts calming the lumps, thumps, and bumps one associates with a Harley engine. One thing to note is the amount of throttle grip rotation required — from zero to full, you'd almost need two grabs at it.
Harley-Davidson Pan America 1250 Special
For an additional $2,700 and 25 pounds of weight, the Pan America 1250 Special is aimed at the premium ADV market. The big story here is Harley's semi-active front and rear suspension with what they call "Vehicle Load Control," or VLC. This system uses inputs from various sensors to automatically adapt the bike's damping to "the prevailing conditions and riding activity." The Special's VLC can even weigh its rider, passenger, and cargo to instantly adjust the rear preload settings for optimum sag.
Here's the white/orange design that we first saw on the concept. I don't think anyone will mistake it for a KTM. Harley-Davidson photo.
A factory-installed option called Adaptive Ride Height (ARH, +$1,000) can push these abilities even further. ARH gently lowers the bike to its shortest suspension setting at stops so that the rider can get a foot (or two) down. It's fairly sophisticated, too, with plenty of customizability. The Pan America lifts back up once underway. 
Harley brand ambassador Jason Momoa dirties up a 1250 Special. Harley-Davidson photo.
Other features include TPMS, a center stand, brush guards, a skid plate, an adjustable brake pedal, heated grips, wind deflectors, (another deep breath) a steering damper, and adaptive cornering lights. Paint colors for the Special are Vivid Black ($19,999); Gauntlet Gray Metallic (+$250), and two-tone Baja Orange and Stone Washed White Pearl (+$350). 
Wheels and suspension
The Pan America's cast wheels measure 19 inches in the front and 17 inches in the back, shod in Michelin's new Scorcher Adventure tires that were developed specifically for this bike. They look like bulked-up Scorcher 32s to my eyes. Harley recommends moving up to the Anakee Wild for anything more than a fire road, and even offers them as a factory upgrade. Tubeless laced wheels are a $500 factory option.
The base Pan Am has a fully adjustable, 47 mm fork and a preload-adjustable RSU, all from Showa. Harley claims the rear shock linkage keeps the rear suspension compliant enough for on-road duty, yet strong enough for thrashing in the wild. You've got seven and a half inches of travel here, with 8.3 inches of static ground clearance.
The base Pan America will be available in Vivid Black or, for an additional $250, River Rock Gray. Read on if you want all the bells and whistles on your Harley ADV bike.
The Pan America 1250 Special is built to compete with the premium ADV crowd. Harley-Davidson photo.
Braking and rider assists
Harley made sure that the Pan America shipped with a suite of rider aids to stay competitive. "This broad collection of technologies is designed to match motorcycle performance to available traction during acceleration, deceleration and braking," says Harley. Brembo supplies the dual radial monobloc calipers up front, as well as the master cylinder and adjustable lever.
The touchscreen locks while riding to prevent distracted disasters. Pull over to use the touch feature or navigate menus while riding with the handlebar-mounted buttons. Harley-Davidson photo.
On the rider assist front, Harley bestowed the Pan America with their Cornering Rider Safety Enhancements package which includes (deep breath) "Cornering Enhanced Electronically Linked Braking, Cornering Enhanced Antilock Braking System, Cornering Enhanced Traction Control System, Cornering Enhanced Drag-Torque Slip Control System, and Hill Hold Control." These systems use input from the bike's IMU to stabilize the motorcycle and increase confidence. They are lean-sensitive, just like the rest of the flagship ADV bikes out there.
The paint upgrade for the plain Pan America is this River Rock Gray. Look at how neatly the engine is framed from this angle. Harley-Davidson photo.
The Pan America's five modes are also rider aids in their own way. You'll get Road, Sport, Rain, Off-Road, and Off-Road Plus on the base model, with an additional two custom modes for the Special. 
All these assists and features are managed with the Pan America's 6.8-inch TFT display. This screen is touch-capable as long as the motorcycle is not moving; you'll have to use the button controls by the handgrips for changes on the fly. The tilting, anti-glare dash connects with smartphones, as you'd expect, to handle calls and music, while navigation "is supplied by the free Harley-Davidson App for iOS or Android." Harley's ride-planning tools came highly recommended in our motorcycle GPS article, so here's hoping for more of the same. 
The stock wheels and tires are suitable for light off-roading. If you look closely at the rider's gear, you'll see that Harley partnered with REV'IT! for branded ADV gear to match the new bikes. Harley-Davidson photo.
Maybe a small step for ADV, but one giant leap for H-D
The Pan America's success hinges on several factors. Will its specs, innovations, and real-world performance woo customers away from the other compelling options on the market today? How will the Harley community treat a liquid-cooled adventure-tourer that doesn't have a square inch of chrome? And will dealers get on board with Harley's new direction?
«H-D? Wait, that's a Harley?» Harley-Davidson photo.
One line stuck out to me in Harley's presentation: "The fact that you're being so polarized about it is a really healthy reaction to have." These motorcycles will need more than spec-sheet speculation and a cinematic introduction video to be judged, and we can't wait to get our hands on one for a future first ride review. Look for the Harley-Davidson Pan America 1250 and Pan America 1250 Special to arrive in dealerships starting in May.
Where would a Pan America take you? Spurgeon would choose somewhere like this. Harley-Davidson photo.
P.S. Harley also mentioned that the Custom cruiser concept would get a production version. Watch this space for more coverage of that bike, too. 
2021 Harley-Davidson Pan America 1250 and Pan America 1250 Special
Price (MSRP)
$17,319 (base), $19,999 (Special)
Engine
1,252 cc, 60-degree, liquid-cooled, four-valve, V-twin
Transmission,
final drive
Six-speed, chain
Claimed horsepower
150 @ 9,000 rpm
Claimed torque
94 foot-pounds @ 6,750 rpm
Frame
Steel trellis, aluminum midsection
Front suspension
Showa USD 47 mm fork, adjustable for preload, compression, and rebound, semi-active option available; 7.48 inches of travel
Rear suspension
Showa monoshock, adjustable for preload, semi-active option available; 7.48 inches of travel
Front brake
Dual Brembo radial-mount calipers, 320 mm discs, ABS
Rear brake
Brembo floating single-piston caliper, 280 mm disc, ABS
Rake, trail
25 degrees, 6.2 inches
Wheelbase
62.2 inches
Seat height
31.8 inches (laden with 180-pound rider)
Fuel capacity
5.6 gallons
Tires
Michelin Scorcher Adventure, 120/70R19 front, 170/60R17 rear
Claimed weight
534 pounds (base, wet)
Available
May 2021
Warranty
24 months
More info
harley-davidson.com
Harley-Davidson Pan America 1250 (2021) Comfort and Economy
The peg to seat gap is actually quite short for a bike pitched at being an 'adventure tourer', a distance:comfort ratio accentuated when you arrive back on the tarmac having ridden off-road and therefore been stood up on the pegs. You fit snugly back into the seat, and it seems a little cosy, my knee was higher than my hip, just. On the press ride we only ever spent a maximum of around 40-minutes in the saddle at a time so comfort over a great distance is still tbc. The stretch to the 'bars is nothing too outrageous given the length of the bike and its overall stance, and for potential big miles the width of those handlebars, accessibility to the plethora of buttons, inc. standard fit cruise control, are spot on for comfort levels. An additional 2" can be found with the accessory bar riser. Levers are span adjustable as is the four-position screen via your left-hand lever operation, and it's sturdy too even in the highest setting which, at 6ft tall, I found pleasingly protective as the rain lashed down.
If you do opt for the full luggage, you can be safe in the knowledge that even when full, plus a pillion, the bike is still homologated to 135mph! The standard seat has two height settings: 868mm / 894mm on the standard 1250 or 850mm / 875mm on the Special. It's interchangeable by removing the pillion seat and moving the rider's seat up or down into the relevant lugs. For which you need a key. On a keyless bike. Oh, why do we have this key/keyless battle with so many modern bikes? If it's going to be keyless then scrap the key altogether, don't make it partially keyless. On the Harley you still a key for the seat removal, fuel tank access and for any luggage. Anyway, we digress. With the Special there's the pièce de resistance – Adaptive Ride Height. Sensors work out when you're stopping and lower the front and rear pre-load hydraulically to make getting off the bike easier. Equally, it recognises as you pull away to increase that height again, though the system disengages when in Off-Road mode for obvious reasons. Clever stuff that's almost unnoticeable. It takes the bike's seat height down to 825mm / 856mm. And here's a tip to know which setting the seat is in – there's an inch tall bump on the end of the fuel tank in front of the seat that resemble a gentleman's parts right in front of where the gentleman's parts would be if sat on the bike. If you can't see them then the seat is in its higher position.
The tank is said to hold 21.2 litres and with a claimed economy of 43mpg that would return a range of 225 miles.
Rivals
What a class to dip your toes into. The most popular and fastest growing of the last twenty years with some superb machines with years of development under their belts already swan around with an air of grace. From the BMW R1250GS and its Adventure-spec sibling to the KTM 1290 Super Adventure pairing, Ducati's incredible Multistrada V4 range and the existing (and soon-to-be-updated) Triumph Tiger 1200. There are many more that don't quite match up in terms of performance or spec yet are still accomplished touring adventure types from the Japanese four of Yamaha, Suzuki, Kawasaki and Honda. Though for this chart, we settled with the European motorcycles that offer the best rivalry to the new Harley:
| | | | | |
| --- | --- | --- | --- | --- |
| | KTM 1290 SUPER ADVENTURE S | BMW R1250GS | DUCATI MULTISTRADA V4 | TRIUMPH TIGER 1200 XCA |
| Engine | 1301cc, V-Twin | 1254cc, Boxer Twin | 1158cc, V4 | 1215cc, inline triple |
| Power | 160bhp (118kW) @ 9000rpm | 134bhp (100kW) @ 7750rpm | 170bhp (125kW) @ 10,500rpm | 139bhp (104kW) @ 9350rpm |
| Torque | 102ft-lb (138Nm) @ 6500rpm | 106lb-ft (143Nm) @ 6250rpm | 92lb-ft (125Nm) @ 8750rpm | 90lb-ft (122Nm) @ 7600rpm |
| Weight | 220kg (dry) | 249kg (wet) | 243kg (wet) | 248kg (dry) |
| Seat height | 849-869mm | 850-870mm | 840-860mm | 835-855mm |
| Fuel tank | 23 litres | 20 litres | 22 litres | 20 litres |
| PRICE | From £14,999 | From £13,705 | From £15,665 | £16,950 |
Essential specifications
The Pan America, "Harley-Davidson's explore-it-all machine for riders who see touring as detouring," weighs in at 534 pounds wet in base trim. It's powered by Harley's new Revolution Max 1250 engine, a liquid-cooled, 60-degree, DOHC V-twin with variable valve timing and hydraulic self-adjusting lifters. It has a bore of 105 mm, a stroke of 72 mm, and a total displacement of 1,252 cc, breathing though a washable filter and a full stainless exhaust.
The new engine has a 13:1 compression ration and wants 91 octane for best performance, though Harley says the knock sensor permits the use of lower octane levels if needed. Magnesium covers help keep the weight down. Harley-Davidson photo.
The Revolution Max 1250 produces 150 horsepower at 9,000 revs, with 94 foot-pounds of torque coming on at 6,750, all with an average fuel economy of 46 mpg (est. city/highway), according to Harley-Davidson. With its 5.6-gallon aluminum tank, the Pan America should be good for around 250 miles per fillup. Happily, the Pan America includes cruise control as standard.Adventure-touring bikes must be capable street bikes, even if the glory photos always show them in the dirt. A chain final drive was chosen so it would work both on- and off-road. Harley-Davidson photo.
The frame is actually three components that bolt to the engine: a forged aluminum "mid-structure" with steel trellis sections up front and under the tail. An aluminum swingarm, cast as a single piece, brings up the rear. The seat height can be adjusted from a high position (35.2 inches) to a low position (34.2 inches) without tools to suit a wider range of riders. More on that later, with the Special's semi-active suspension.
Handling, Suspension and Weight
The Pan America is a whole lot of bike, weighing in at a mighty 258kg (wet), yet even with an Öhlins steering damper fitted to the Special there's an vagueness to the front end at the initial tip-in. Understandable, considering the bike's size and purpose, you might say. Electronic suspension and quite a stiff front brake feel battle with the weight transfer as you change from braking to steering and even though the Harley-developed Michelin Scorcher Adventure tubeless tyres are ace, there's a limit to how much you can trust initial turn on your first ride. The Pan Am is long too at 2265mm (GS: 2207mm) with a 1580mm wheelbase (GS: 1500mm) and even though the centre of gravity is well-engineered, and the bike doesn't feel as top heavy as the German counterpart (despite a v-twin having taller cylinder movement than a boxer), the consequence is the aforementioned confidence in the front end having to be earned rather than immediate. That said, look at what it's been built to do. Hustling around b-roads 'aint its forte. 
The engine is mounted low, so low in fact I started to compare ground clearance as soon as I saw the bike in the flesh thinking it's going to get a proper bashing off-road. However, while it's only 10mm shy of the BMW, it's 45mm off the Ducati. On the Special you get an aluminium skid plate to protect the crankcase and throughout our romp around Mick Extance's Welsh forest-based motorcycle assault course its humps and hollows, I didn't feel the bike bottom-out once. Our bikes were fitted with the optional extended skid plate. Considering the amount of engine, chassis, and electronics on the Pan America, as well as the murky and mucky conditions on the Welsh roads, after my initial concerns, I began to feel comfortable trying to boss the bike a little. Pushing on at each corner exit to see if anything untoward would happen, yet it stayed composed courtesy mainly of the excellent Showa 47mm BFF forks. The Special's semi-active setup automatically adjusts the damping depending on conditions and riding style, governed by five profiles incorporated into the riding modes and even altering the rear preload automatically to account for the weight of the rider, passenger, and luggage. Ironing out the (very few) blemishes on the Welsh valley roads seemed a simple task.